Notes from Barcelona Design Congress 2020
Last week, took place during October's first week, Barcelona Design Congress 2020, an event that this year has Sweden as guest country, and was focused heavily in Interaction Design and Service Design as main topics. Below are the main ideas we took from each speaker:
Professor of Design Theory of Intelligent Systems in the Eindhoven University of Technology, began the conference with an excellent exposition, demanding a return to the philosophy with a phenomenological approach, where meaning is created in the interaction.
Pointing some principles of the philosopher Maurice Merleau-Ponty, design is about embodiment, skills and cultural world. From a body perspective to change our behaviour and come with a natural approach. We need to avoid our current cartesian perspective, changing from efficiency to behaviour and respect. Phenomenological design is about creating new opportunities, and is needed new skills for this approach.
Design is not finding the truth is about find the appropriate solution. Opening up abstract to sensorial with a first person perspective, research through design.
Head of Sound & Visual Content of Nokia, performed a nice history of Nokia tune, and the way Nokia treats the sound as a key element of its brand experience. Also pointing the importance of culture a diversity of sound and tune design, to match the tastes of a huge amount of users around the world. Is about having a variety of sounds for all tastes.
"There's a ring in the hell where sound designers expiate their sins by creating ringtones forever and ever".
As example, he exposed the case studio of the new zoom sound on the camera, which is not trying to imitate the analogical reflex sounds as the rest of the manufacturers, is a subtle "click" more digital. Seems that there's also skeuomorphism on sound design.
Design Lead at Tuenti, explained in a pure story telling style, the new Tuenti redesign process and history, where mobile "is the boss", and how drafting a statement of intent and a product definition first, can drive design decisions with a close reading. Also he explained not only the importance of a good design process, but the importance to explain the design to the managers and stakeholders.
Research and Vision Manager of Samsung Design Europe, stated the new design vision at Samsung, where since 2011, the company is focused creating meaningful products, not about having all the technology and features, standing out the easy smart, harmony and nature, as values.
Range Strategist in IKEA, pointed the main company principles of the giant, where affordability and democratic design are key values, and how every aspect of the design process, from the first idea to the packaging, is important: "IKEA never ships air".
Manager and Chief Architect at TEA and Senior partner at Stockholm Design LabTea, displayed some examples of his minimal and elegant work, where the aim is to be invisible (quoting Bruce Mau's words) and standing out from being in silence, not yelling.
Cofounder of Doberman, performed a motivating introduction to Service Design discipline, pointing again on local culture as a key differential factor, as other speakers. She stressed the importance of live with the customers, collaborate and break down silos disciplines and keep in mind that everything is a prototype.
Cofounders of the design studio Form Us With Love, explained the first experiences as a company and their design vision that each company should follow, summarized in a brilliant scheme called the "design stair": where an organization grows from no design to design as a culture.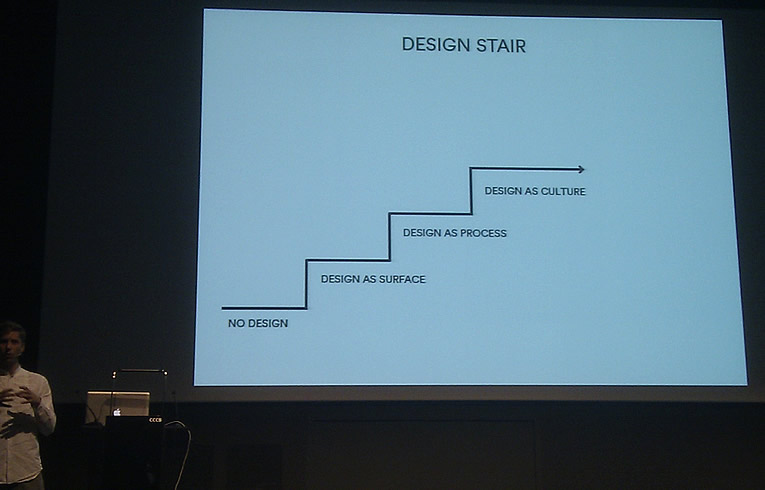 Notice that all the speakers structured their speech, with some variation, around the same philosophy: design as a process, something that design community around this lands is apparently not yet transmitting to the rest of the world. The discussion on the round table was around if there was a difference between "mediterranean and nordic design", a silly concept where some professionals seem to be comfortable. The question is, whatever is your expertise, what is your design approach? From the surface or from the structure?